Jefferson City Day Care Center
Jefferson City Day Care, established in 1966, is accredited by Missouri Accreditation ( MOA ); and it is the first day care center with an accredited Early Childhood Education Program in the Jefferson City area. A not-for-profit, United Way Agency, the Center is licensed by the Missouri Department of Health and Senior Service, Bureau of Child Care Safety and Licensing, ( DHSS ), for an enrollment of 99 children, ages birth to 8 years. The Center is open year round and was built primarily to meet the needs of children of low and middle-income families with parents that are working or in school. The philosophy of the Center maintains that each child is entitled to safe, clean, and attractive surroundings and an educational program, which is appropriately structured to meet the needs of their age, and ability, which will foster a deep, sense of his/her self worth.


Donations
The Center accepts donations throughout the year of new and used items in good condition. If you have a donation, please contact the Center and ask for Donna or Mark.
Please Help Support United Way of Central Missouri

Help support the Center and be an advocate for child abuse prevention!

Just click on the license plate and make a $25.00 donation ($50.00 for a two year plate) to Children's Trust Fund. Select "I would like to make a donation to Children's Trust Fund." Using the drop down box, select "License Plate Donation." Select us as your license plate partner; "Cole: JC Day Care (JC46)." And then enter your information! When you are done, print off your voucher and take it to your local DMV to get your license plate.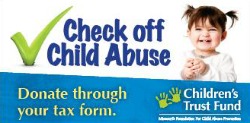 Jefferson City Day Care Center is a proud partner with Schnucks and the eScrip program. Before you pay for your groceries, give your Community Card to the Cashier and every purchase you make, Schnucks makes a donation to the Center. You can pick up a Community Card at either Schnucks or the Center. You can get help registering your card at the Center, or you can register your card at Call (800) 931-6258; 8:00 am to 7:00 pm, CST, Monday-Friday, or online!
Get Directions to your local Schnucks and get your Community Card today and help the children at the Center.

Recycle, Reduce, Reuse


The Center has partnered with Missouri Department of Natural Resources and Mid-Missouri Solid Waste Management District to update one of our playgrounds with a new recycled tire rubber surface!

Volunteers
The Center is looking for volunteers to join us in rocking babies, telling stories, and reading to our children. Other volunteers are welcome to help with painting, mowing grass, and other maintenance needs. All volunteers must be able to pass a background screening. If you are interested, please contact the Center in person or by phone and ask for Donna or Mark.